German Bundesliga giants Bayern Munich are eyeing a fourth win from four games in all competitions in the new season ahead of their trip to face newly promoted VFL Bochum in the league this weekend. The Bavarian giants have a record of three victories from three games ahead of the Bochum game. It must be pointed out that Bayern Munich are massive favourites at the expense of their opponents Bochum.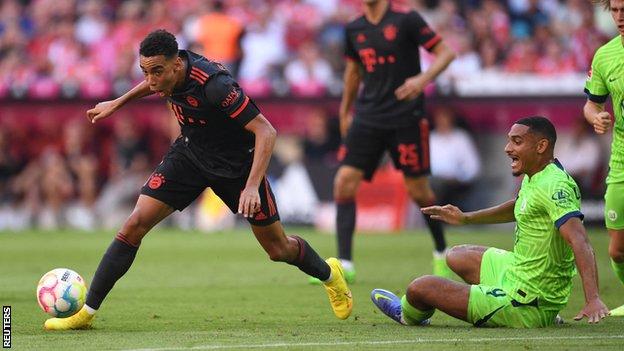 In their first game of the new season, Bayern Munich edged out RB Leipzig in an eight-goal thriller during the German Super Cup. Bayern ran out 5.3 winners with five different goalscorers to emerge as the latest German Super Cup winners.New signing Sadio Mane was one of the five goalscorersfor the Bavarian giants during the game. Mane doubled the lead for his new team after young German international Jamal Musialascored the opening goal. Senegalese starMane was able to score his first goal for Bayern Munich following his transfer from Liverpool. He left the Merseyside outfit after six years at the club.
For their second game of the new season and the first league game, Bayern Munich ran out 6-1 winners at the expense of hosts Eintracht Frankfurt. The aforementioned Musiala was the star of the show after he scored twice either side of the half-time break. Mane was also on target during the game to make it two goals from two games.
In their third game of the season, Jamal Musiala and Thomas Mueller scored in the first half to propel Bayern Munich to a 2-0 victory over VFL Wolfsburg. Musiala has been in sensational form for the Bavarian giants this season with four goals in three games in all competitions.
With two wins from two league games, Bayern Munich are at the top of the table and away from Borussia Dortmund in second place on goal difference.