Bayern Munich suffered a 4-2 loss against Real Madrid at the Santiago Bernabeu after extra time.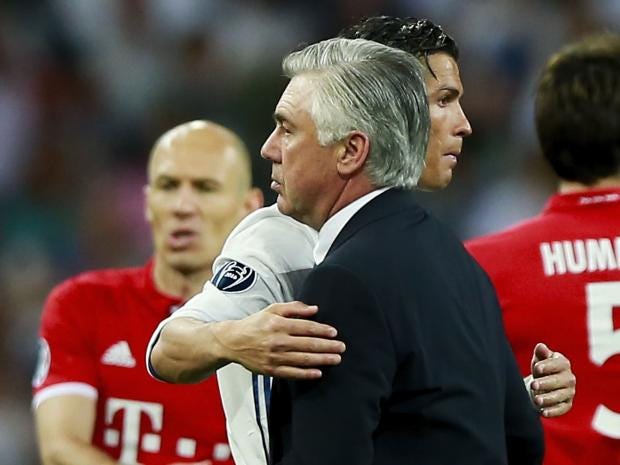 This second leg defeat in the Champions League quarter-final was extremely disappointing for the German club, as they felt that they were the wrong end of several poor refereeing decisions. Bayern Munich made an exit from the competition after the 6-3 loss. The team had earlier suffered a 2-1 loss at the Allianz Arena. Yet, Bayern did produce one of the best performances, but it was not enough against a Madrid team, which were termed as lucky.
After the game, manager Carlo Ancelotti called for video technology to be introduced in the game in order to iron out the refereeing mistakes. Two goals from Cristiano Ronaldo could have easily been ruled out, and these goals ultimately proved to be the difference between the two teams. Ronaldo scored a hat-trick with two of his goals coming in extra time. Vidal was sent off for a second bookable offence with just over 10 minutes of normal time remaining.

The sending-off also had a crucial role to play in Bayern's exit from the competition. Ancelotti was hoping to win the Champions League with yet another team. He has already won the competition with AC Milan and Real Madrid.
"We had thought of everything going into this game - except the referee. It's a pity, because it was the perfect game otherwise.I am very proud of my players, as they did all they could and more, but then it went the way it went… The referee probably wasn't up to the task.I don't think Real Madrid have any influence on referees. The officials tonight simply got it wrong. I had never been in favour of VAR technology, but I must admit it's necessary now," said Ancelotti.