Arsenal coach Arsene Wenger says he is proud of his side despite the big loss against German side Bayern Munich in the round of 16 of the ongoing Champions League.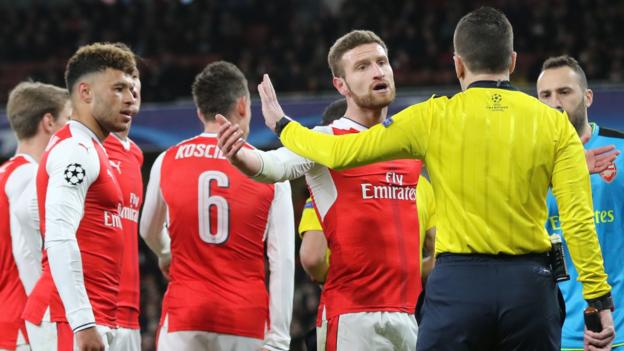 Wenger's men had lost the first leg 5-1. Many expected them to put up a tough fight at the Emirates but they lost by the same margin.
Wenger blamed the referee for the way the match went. He said he was "revolted" by the referee. The ref Anastasios Sidiropoulos denied them a penalty when the scoreline was 1-0 in their favour but he awarded a penalty in favour of the guests later on. Gunners defender Laurent Koscielny caused the foul on Robert Lewandowski which earned him marching orders.
"The penalty and red card are absolutely unexplainable and scandalous. It's irresponsible from the referee. It leaves me very angry and very frustrated," the French tactician said.
Three Lions forward Theo Walcott got the opener in the first 20 minutes, making Wenger feel the result could have been significantly different had Arsenal got their penalty when they pushed for it. Bayern Munich were allowed enough time to settle into the game. After the break, Lewandowski's goal from 18 yards equalled proceedings.

The law were changed recently so players that commit accidental fouls that stop goal-bound efforts were shown yellow cards while deliberate fouls still incurred straight red card and a penalty. Sidiropoulos initially showed the French defender a warning but after consultations with his assistant, he decided that the foul was deliberate.
The scoreline killed the hunger in the Gunners camp. Bayern Munich then killed the game off, scoring four times in 17 minutes. Arjen Robben scored in the 68th, Douglas Costa ten minutes later before Arturo Vidal hit two within five minutes in the 80th and 85th minute.
Wenger and his boys ensured the club suffered the biggest defeat of an English side in the European tournament.